If you are looking for a self catering apartment in Lipari, modern, newly refurbished with care, with all the amenities necessary for a home away from home, then the Casa Grace is what you have been looking for. It is an apartment comprising of a large open kitchen, dining and living room, 2 bedrooms, bathroom with shower and a big enclosed terrace.
Newly refurbished

The apartment was completely refurbished in 2016, and the best comfortable and modern furnishings were chosen with passion and care.

Everything you need

In Casa Grace you have at your disposal all you need for your independent self sufficient holiday :
wifi, sofas, electric massaging reclining chair, Sat TV, washing machine, air con, heating, ceiling fans in the bedrooms, ironing board and iron, hair dryer, fridge, freezer, cooker, microwave, all linen, independent entrance and a fully equipped kitchen.

And don't worry, if you don't feel like cooking, there are good restaurants, pizzerias and take-aways a few minutes walk away.


Everything is within walking distance.

The apartment is in a peaceful part of the town, but only a few minutes walk from the bus stop, and 5 minutes walk from our B&B Diana Brown. Marina Corta is 5 minutes walk away, as is the acropolis, museum and main street.
3 good reasons to stay at Casa Grace.
– a recently refurbished new apartment
– tastefully furnished kitchen, bedrooms and living room
– very good value for money
The surrounding area.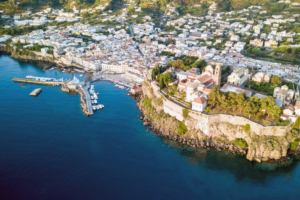 Casa Grace is just off the Via Giuseppe Franza.
The bus stop to the White Beach and Canneto is within walking distance.
All restaurants, pizzerias, cafes, ice cream parlours and delicatessens are in the centre, just 5 minutes walk away.

From the apartment, in a very quiet and central zone, you can reach:
the Marina Corta square in a few minutes
the Portinente beach in 10 minutes
the village and beach of Canneto in 10 minutes on the shuttle bus from the ferry port
Casa Grace | Lipari on Google maps